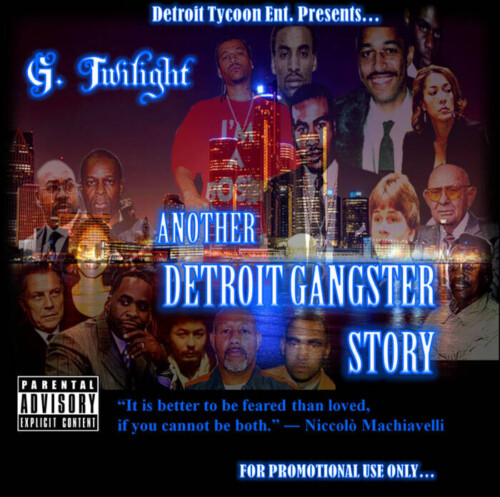 "Another Detroit Gangster Story" is G. Twilight's third mixtape and final of the songs recorded at Mo Master Studio. It was definitely one of his more hostile projects, but also very self-defining and reflective. Roger Ebert's famous quote "To know me is to love me" has become a popular cliché. However, in this case it makes more sense to reverse the order and say "To love me is to know me" because how can you truly love someone without knowing them? I think the reason many of these true stories in his music occurred is because his contemporaries refused to get to know him on a personal level. According to the stories, 'G.' was loyal and honest in what we all know is a very cut-throat lifestyle. However, because of their greed and lack of respect for him as a person, the darker elements of his personality were also exposed. Elements that it seems he himself didn't know were there. It all started with a few misconceptions and crossed signals, but in those moments he terrorized, stalked, and planned to murder men who he once considered to be his friends.
Originally recorded in 2013, the title is a satirical reference to the 2008 film "Another Cinderella Story". With production credits from Johnny Juliano, White Hot Productions, DrizDaKid, Ear 2The Beat, Traphittaz/TrapLife Muzik, Dat Boi Beezo, Heart Beatz, Mr. K.A., ID Labs, White Boy Hype, and even G. Twilight himself, this project narrates the unanticipated journey of a young man's encounter with darkness on the west side of Detroit, MI, USA. Through his lyrics, the rapper skillfully depicts vivid scenes using less-than-ideal circumstances as his palette. Going deeper than his previous works and putting aside any pretense of machismo, Twilight exposes his inner conflict and torment stemming from his involvement in criminal activities. In previous project I often found myself asking "who is Jamie and why is Twilight so angry with him?" In this project however, the rapper leaves no stone unturned and fully explains the betrayel, the who and the why in a way that listeners can identify and even empathize with. Viewing this moment as a unique opportunity, the rapper shares episodes from his life as he embarks on a quest for local fame and wealth, only to discover the ephemeral nature of street recognition. Additionally, the emcee reflects on the lives and legacies of Detroit's underworld figures, resembling characters from Shakespearean dramas, such as "Maserati Rick," "Demetris Holloway," "Young Boys Inc.," "Pony Down," and many others.
This mixtape shows how the underworld struggle can very Machiavellian. This seems to be a game that is typically played up close and personal with people you've known for years prior to street involvement. Even though Twilight got off to a late start, he was still not an exception to the rule. Speaking from a standpoint of pure strategy, it is best to be both loved and feared at the same time. However, when that perfect ideal is not possible, fear is a more reliable way to inspire discipline than bonds of love. With unscrupulous people things like respect and gratitude will often dissolve when it is convenient for them. A lion is defenseless against schemes while a fox is defenseless against wolves and other physical threats, which is why it is important to exhibit the characteristics of both. Cunningness and physical prowess displayed together is most effective way for to acquire and maintain power, or so it appears to be on this mixtape.
Quiet cunningness, the ability to be manipulative, and a willingness to use whatever means necessary to gain power are things that seem to be celebrated in G. Twilight's world, in addition to psychopathic narcissism not being uncommon. It's "every man for himself", while pretending to be a team. In a brief conversation I had with the rapper he said: "I was planning all types of violence whit' my one of my guys who I was solid with on here in these streets, when I heard a song called "Ride On Me" by Blade Icewood [a famous local rapper in Detroit]. I'd heard it many times before but on this particular day a light bulb went off in my head and I got the bright idea to tell my story on record the same way Blade had done. To this day, Blade is loved and respected here in the city of Detroit, but it was this song that (in my opinion) ultimately got him killed in April of 2005. It was "drill rap" before the genre actually existed. I knew I could do it and I decided that this was a better option than doing things that would've landed me in prison for life if I'd gotten caught. By the end of that day, I'd written the song now know as "Once Upona Time On 7 Mile". I didn't quite know what to make of it or even what I was going to do with it, but I kept recording other songs here and there.. Later on, while having one foot in the street and the other in the legitimate world I recorded a part two to the "Maserati Rick Song" which was originally featured in the documentary film about street legend Demetrius Holloway "The Detroit Connection 3: Last Man Standing". I also included the original version of that song since the director of that low-budget project didn't actually create a soundtrack for the docu-series or give me credit for my contribution.. and now we have "Another Detroit Gangster Story" mixtape.. you dig?"
After listening to what the artist had to say about it, I think those, as well as the title track, are the core songs of which everything else is built around. My personal favorite on this project is "The Maserati Rick Song", produced by G. Twilight and features Breonna Lewis, who ironically is the daughter of the main antagonist on the mixtape. Twilight paints a vivid image similar to a Donald Goines novel that narrates the tale of Richard "Maserati Rick" Carter Sr. (July 31, 1959 – September 12, 1988) and Demetris Gene Holloway Sr. (June 30, 1958 – October 8, 1990). The two were entangled in the perilous realm of drugs and criminal activities during Detroit's infamous crack craze of the 1980's. Twilight's lyrics delve into the outcomes of leading a high-speed and violent existence, ultimately culminating in a tragic demise for both men.
In the initial verse, G. Twilight introduces us to Masearti Rick's flamboyant personality who was renowned in Detroit for his affluence, extravagant automobiles, and involvement in the drug trade. He adeptly maneuvers through the criminal underbelly, utilizing legitimate enterprises to launder his ill-gotten gains. Nonetheless, his opulent lifestyle and adversaries eventually catch up with him, resulting in a violent demise while recover from a gunshot wound in the hospital. This verse starts off glamorizing Rick's lifestyle but ultimately underscores the hazards and perils linked with the dope game.
Breonna, in the chorus written by G. Twilight, underscores the relentless pursuit of wealth and the precarious lifestyle the characters embrace. It acknowledges the various roles, ranging from dealers to pimps, players, and individuals engaged in risky endeavors, all striving to attain financial success. The chorus implies that, despite the violence and dangers, they are willing to go to any lengths to achieve their goals.
In the second verse, G. Twilight introduces us to Demtris Holloway (often misspelled as "Demetrius" in local news papers) who has previously served time in prison for other offenses. Demetris, who author Scott M. Burnstein refers to as "The Original Big Meech", manages to amass significant riches and assets through illicit means, despite having a criminal record. However, he becomes embroiled in a vendetta following the murder of his closest friend and crime partner Masearti Rick, compelling him to go into hiding. Despite attempting to stage his own abduction, he is eventually apprehended and meets a violent end, once again underscoring the inevitable brutality intertwined with this lifestyle.
Throughout the song, interludes feature excerpts from dialogues by the character Omar Little (Michael K. Williams) from "The Wire" TV series, further accentuating the harsh realities of life in the criminal milieu. It reinforces the notion of survival and the perpetual need to remain vigilant, along with the inescapable consequences individuals must confront. It exposes the ceaseless cycle of violence and jeopardy that accompanies involvement in the drug trade. It presents a somber perspective on the grim truths of life within the criminal underworld and serves as a cautionary narrative regarding the repercussions of pursuing wealth through unlawful means.
This mixtape is exactly what the title implies. It's like a domino effect and G. Twilight's story is no different than many who came before him in the Detroit drug trade. However, after listen to the mixtape, I often found myself wondering why anyone would want to sign up for this lifestyle. It seems almost certain to end with death or prison. Perhaps I'm out of touch because of proximately, but it certainly doesn't seem logical.
In the words of a clinical psychologist named Jordan Peterson, "You can't truly call yourself 'peaceful' unless you're capable of great violence, if you're not capable of violence you're not peaceful, you're harmless" and "A harmless man is not a good man. A good man is a very dangerous man who has that under voluntary control." It's not the one in hell you should be afraid of, it's the one who got out of it. G. Twilight's voice has given him so much more power than those who became his rivals, because his story is now concrete while theirs will ultimately be forgotten except the highlights that 'G.' co-starred in where they are the villains. Despite having only two previous releases, "Another Detroit Gangster Story" highlights the rapper's innate storytelling talents and his ability to immerse listeners directly into the heart of the narrative. Listening to it will make you feel as though I experienced the entire journey alongside him. I definitely believe that "Another Detroit Gangster Story" is a classic that must admired and studied.
You can listen to "Another Detroit Gangster Story" on YouTube at: https://www.youtube.com/watch?v=XSDfI3_nj7c on Audis at: https://audius.co/GTwilight313/album/another-detroit-gangster-story-2013-984745290 and audiomack at: https://audiomack.com/gtwilight/album/another-detroit-gangster-story
© 2023, Tedfuel. All rights reserved.