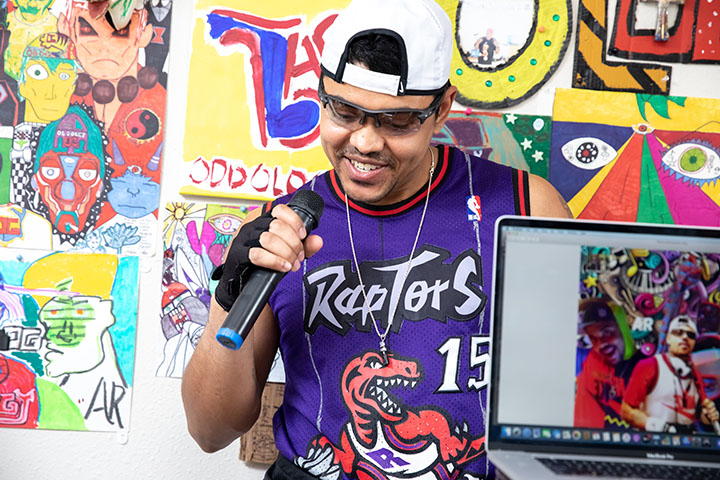 Our biggest obstacles often mold us into who we're meant to be. That is the reality for mullato rapper, AR.
Jordan Roberts is the producer and artist known under the stage name AR. With his brand "OddolOGi3," he has created a movement symbolizing the odd 1's in the clouds, but this come-up wasn't overnight. AR went through a journey filled with ups and downs, and still walking toward his dreams. His music origins date back to 3rd grade when he began penning poetry. That developed into writing rhymes after befriending a rapper by the name of Johnny in 5th grade that schooled him in structure and lyrics.
From high school in 2004 to 2019, AR practiced in silence, self-teaching himself how to produce beats given internet access wasn't possible and producers in his area isolated themselves from him. Graduating from high school, AR had to face some life-changing moments. First having his dad raided by a S.W.A.T. team, then recruited into the Army in order to build up finances to invest in music equipment. Even during the 12 months of being in the field in Iraq, his passion for writing never wavered. After completing his army stint, AR recalls the moment that propelled him further. Meditating and focusing on his dreams and aspirations, a voice echoed "congratulations" in his mind. From then forward, opportunities began entering his life, and he took it as a sign to invest fully in his music career. Enrolling and graduating with a bachelor's degree after turning down acceptance into Full Sail University, he is now situated in Midwest Central Illinois putting his college skills to practice and growing his career.
AR does everything in-house, producing and writing his own rhymes. He's a dope lyricist and skilled producer. Check out his YouTube and Soundcloud to listen to his work. You won't be disappointed you did.
Artist YouTube: https://youtu.be/tDdUpIWG1Sw
Soundcloud: https://soundcloud.com/user-51006756
Personal YouTube: https://youtube.com/shorts/o8shz7I4YRY?feature=share