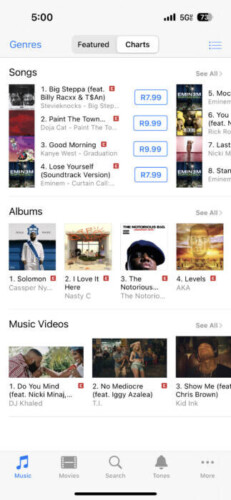 A momentous milestone has just been reached in the career of Los Angeles-based music producer, Stevieknocks. His debut single, "Big Steppa  featuring Billyracxx & Tsan, officially entered the Top 100 iTunes Chart at #1 & #5 proving that the producer's dynamic sound has resonated loudly with listeners.
Scoring a #1 Chart Position is no small feat, especially for an independent producer without major label backing. But Stevieknocks is not new to making waves in the industry, as he worked with Billyracxx, Chris Brown and YSL Strick. These high-profile collaborations gave him the credibility and exposure needed for "Big Steppa " to resonate with hip-hop fans. His relationships within the industry set the stage for this single to succeed.
"Big Steppa has over 12 million streams on SoundCloud and over 200,000 Streams on Spotify. Beyond streaming, the infectious track sold over 3,000 units on iTunes, strong numbers for a song just getting its start. Big Steppa" earned 3,000 equivalent single units in its first week based on Luminate's data. This was enough to clinch the #1 chart position over Doja Cat & Nicki Minaj on September 12th 2023 chart.
The impressive activity on DSPs accounted for 83% of the track's total unit count, showcasing Stevieknocks' digital reach. But climbing the charts was never a foregone conclusion. When "Big Steppa" first made waves on SoundCloud in 2023, the producer likely didn't expect it to reach such heights. Yet thanks to his unrelenting grind, a seamless fusion of styles, and top-notch collaborators like rapper Billyracxx, the single took on a life of its own.
© 2023, Logan. All rights reserved.