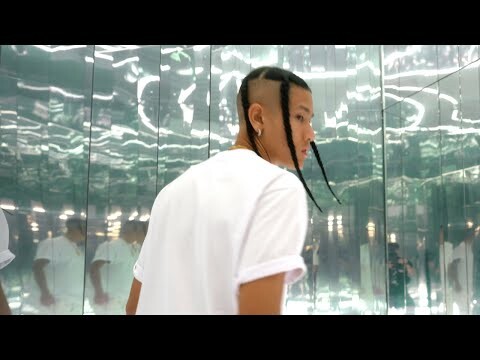 Rising hip-hop sensation, Spence Lee, formerly known as Shotta Spence, takes center stage with his latest release, "White Tee." Produced in collaboration with his close friend and musical partner, Melz, this track and accompanying music video represents a pivotal moment in Spence Lee's vibrant and diverse career.
"White Tee" isn't just a song; it's a vibrant reflection of Spence Lee's dynamic musical journey. This track will transport you through his life experiences, drawing from his roots in New Jersey and his multicultural heritage. With a magnetic allure and a penchant for creative collaboration, Spence Lee seamlessly fuses classic hip-hop influences with his own unique storytelling and rhythmic style, all in a bid to unite and uplift his audience through the power of music.
The lyrics in "White Tee" pack a punch and deliver a compelling message about self-expression and staying true to one's individuality. Spence Lee's words carry the weight of authenticity and style, emphasizing that true freshness isn't about expensive designer brands but how you craft your unique identity. He raps, "Fresher than most of y'all in a white tee, look way better in person than IG; said she never met nobody like me; I'm from the jungle baby can you climb trees?" These verses take you on a profound journey through the complexities of life, faith, and personal growth, creating a relatable narrative that's sure to resonate with listeners.
Accompanying the release of "White Tee" is an enthralling music video directed by the highly acclaimed Michael Gilbert, known for his work with artists like Post Malone and Swae Lee. This visually captivating video takes viewers on a journey through Spence Lee's world as he performs live, provides behind-the-scenes glimpses into his creative process, travels to exciting locales, showcases his basketball skills, and shares candid moments with friends. Throughout it all, Spence Lee stays true to the theme of the song, sporting his iconic white tee with undeniable style. The video perfectly complements the track, offering an experience that brings fans closer to the artist's life and artistry.
The sound of "White Tee" is a mesmerizing fusion of classic hip-hop vibes with a slow and ethereal tempo. In a music landscape dominated by fast-paced trends, Spence Lee and Melz's collaboration shines with authenticity and originality, offering a refreshing and distinct musical experience.
Spence Lee's journey through the music industry has been one of inclusivity and innovation. He proudly embraces his Chinese and Vietnamese heritage, becoming a symbol of the flourishing Asian presence in hip-hop. With dual affiliations at EarDrummers Entertainment and 88rising, Spence Lee stands at the forefront of a musical revolution. His forthcoming debut album, set to release next year, promises an eclectic and diverse soundscape, reflecting his rich cultural background and multifaceted influences.
"White Tee" isn't just a song; it's a sonic voyage through Spence Lee's world of storytelling, personal experiences, and diverse influences. This track represents his unwavering commitment to uniting people through the magic of music while staying true to his authentic self. As Spence Lee's star continues to ascend, "White Tee" stands as a defining milestone in his remarkable musical journey.
© 2023, Seth "Digital Crates" Barmash. All rights reserved.