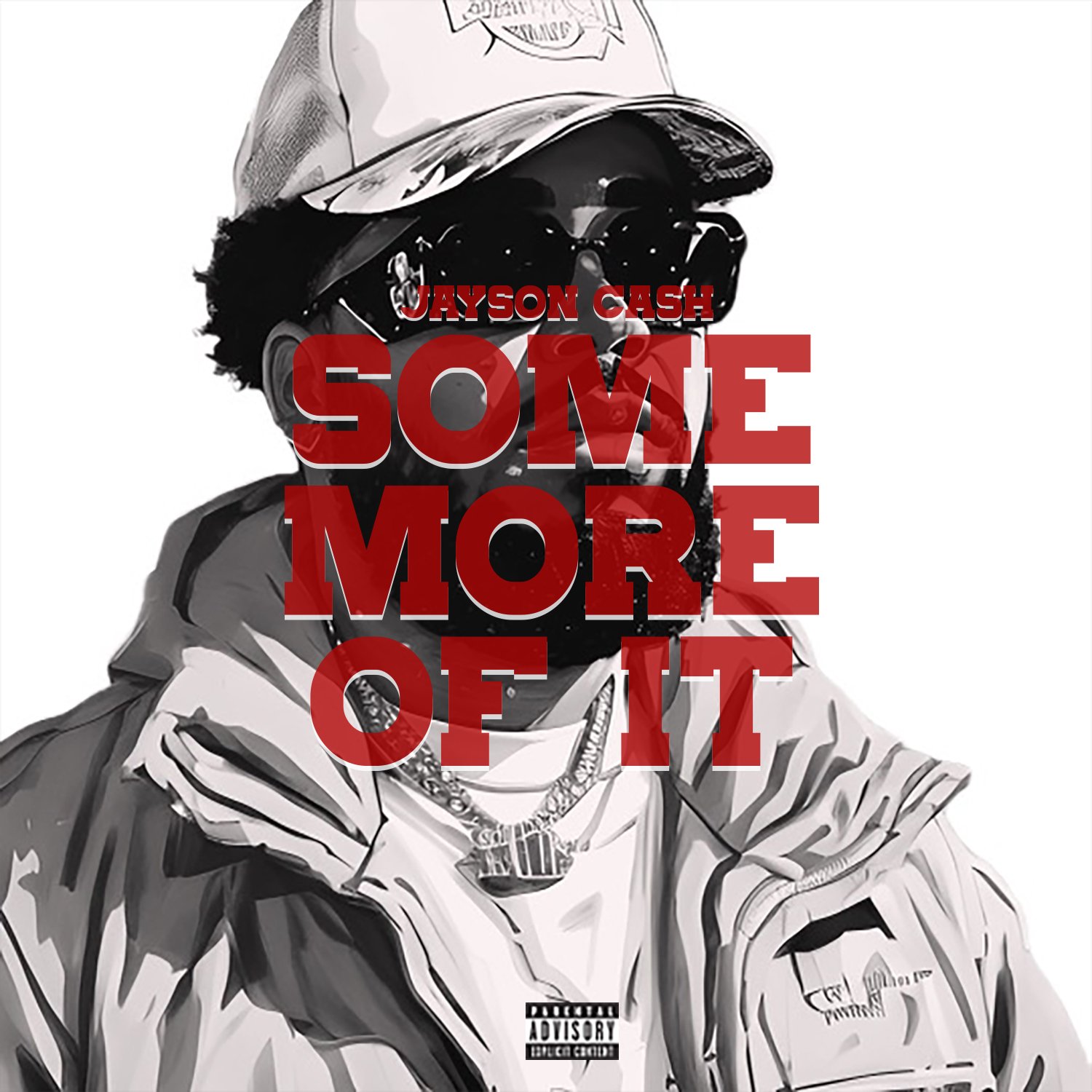 Carson, CA-based rapper Jayson Cash has shared his brand new 3-pack project, Some More Of It, available today via Atlantic Records at all DSPs and streaming services. Highlights include the dynamic title track, "Some More Of It," joined by an official music video, directed by award-winning filmmaker Devone X. King, featuring a cameo by the legendary Bishop Don Magic Juan, and streaming now at YouTube HERE.
Some More Of It marks Cash's first release of 2023 and the follow-up to last winter's harmonious hit single, "Okay Okay," produced by long-time collaborators Tha Eastie Boyz (Blxst, Schoolboy Q, Ty Dolla $ign) and accompanied by an official visual directed by Favor Films now with over 5M views HERE.
Last year saw the acclaimed arrival of Cash's Atlantic Records debut mixtape, Read The Room, showcasing such smash singles as the Mustard-produced "Top Down," "Him (Feat. Dom Kennedy)," "Priority (Feat. Blxst)," and "Selfish (Feat. Major Myjah)," the latter joined by an official music video, inspired by classic scenes from director John Singleton's 2001 film, Baby Boy, streaming via YouTube HERE.
Cash – whose label signing was announced with an exclusive feature in Billboard – took to his socials shortly after the release of Read The Room to kick off his own version of Freestyle Fridays, dropping 14 freestyles on Instagram backed by a wide range of classic beats – spanning Kendrick Lamar, Mobb Deep, and The Notorious B.I.G. to YG, EST GEE, and The Game – all streaming now on YouTube HERE.
Hailed by FLOOD as a "standout lyricist," Cash lit up last fall's BET Hip Hop Awards in Atlanta, GA with a show-stealing freestyle during the award ceremonies' annual cypher. Highlights from the cypher – featuring Reuben Vincent, Sa-Roc, Guapdad 4000, Big Boss Vette and fellow Carson, CA native, DJ HED spinning for all the cypher moments throughout the show – can be viewed HERE.
Other 2022 highlights include an appearance on Sway's Universe Cypher (streaming HERE), as well as electrifying freestyles across platforms such as A Trip To The Corner Store (watch HERE), Real 92.3 LA's Bootleg Kev & DJ Hed (watch HERE), and Power 106 Los Angeles' LA Leakers (watch HERE), the latter of which has earned more than 32K views via YouTube and sees Cash rapping over Jermaine Dupri's "Money Ain't A Thang" and Snoop Dogg's "Still A G Thang." In addition, he's dropped freestyles direct from his car including verses over Jack Harlow's "First Class" (watch HERE), Buddy's "Wait Too Long (Feat. Blxst)" (watch HERE), and Suga Free's "I'd Rather Give You My Bitch" (watch HERE). What's more, after local LA magazine, A Day In LA, dropped their "LA Rap Report Card" and gave Jayson a "D+," instead of being salty about the grade, he jumped in the booth (watch HERE) forcing the Editor-In-Chief of the magazine to respond in fun. Mustard soon stepped up to stan the freestyle as a new fan and "Top Down" was created. Cash later sat down with the EIC for A Day In LA podcast to discuss the grade (watch HERE).